Hellooooo strangers! Sorry for being so flaky and invisible lately. Things have been chaotic to say the least, but hey. We adapt and overcome right? ;) Well, today (and for the next 2 weeks) we have an awesome Paper Issues mini hop to ring in the new theme. The theme for the next 2 weeks is "Patriots and Picnics". Hop along with us and gear up for summer BBQs, Fourth of July, and good ol' American Summertime! There is also a giveaway! I know. Sooooooo amazeballs! ::snicker::
Here's the line-up for the mini hop:
Wanna know what's up for grabs and how to get your sweet li'l name added to the pot to win it? Well, wait no mo'! Well, head on over to the Paper Issues blog and become a follower. Then, head on over to the Paper Issues Facebook page and "like" us. Once you've done that, go back to THIS POST and leave a comment! Easy-Peasy! Would you like to see what's up for grabs? A "Declaration" mini kit! Each kit has 2 of each paper as well as the cardstock sticker sheet. This is up for grabs until July 7th when the winner is announced.
Now for my project. FINALLY! I was asked to put this together for a special friend of mine, Stephanie. We've been friends since the 9th grade so to say that I was honored to do this for her puts it mildly. She ordered a Bubble Frame Brag Book from Globecraft Memories and asked me to put it together for her using photos of her beautiful son, Mac. Since her house is decorated with a rustic Americana flare, I figured that the mini kit The Awesome-Sauce Cassie put together using Pink Paislee's "Declaration" was PERFECT for this project.
Now for the delish close-ups. Sorry. No step by step how-to with this one...at least, not yet. ;)
I left the journaling tag blank so that Steph and write a little note or something in it.
I kept the embellishments small and minimal because the patterns on the paper were just too fantastic and work well on their own.
I did use my sewing machine and sewed a crooked border on every page. It's the subtle details that really work well with this projects.
I find that when I'm working with papers that are bold in color and pattern, black and white photos really work the best and make putting this project together a breeze.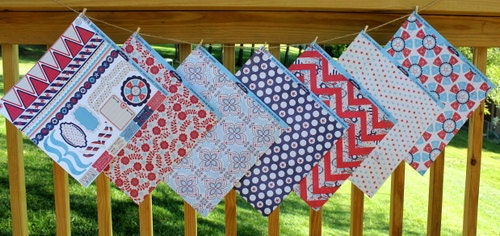 "Declaration" Mini Kit
Be sure to hit up our mini hop for more awesome ideas for our "Patriots and Picnics" theme.
Cheers!