Today, we are all doing the robot over at Gauche Alchemy! Who doesn't love the classics?! We are launching our gradual take over of the world with a fabulous NEW KIT!
Please, put your drinks down and hands together as we launch "Monstrous Mutant Robots From Outer Space"!
Here's what you'll get in this kit!
AAAACK! Who doesn't just LOVE BAM-POP!!!
Aliens, Robots, Space Ducks! OH MY!
-A fabulous Bam-Pop pack of 5 papers with parachuting robots, space birdies, and a sheet of die-cut frames
-Retrobot foil-embossed Geo-Hectic paper from We R Memory Keepers
-Little Monster distressed patterned paper from Moxxie
-Our original 8.5×11″ robot collage sheet
-4-5 pages of vintage ephemera
-Kaiser Craft brads (15 pack)
-A mutant alien rubber duckie
-Hip in a Hurry Vinyl robot decal
-2 peel-and-stick robot wall decals
Oh. My. HECK! There's more??!!! You bet your sweety-patooty there is!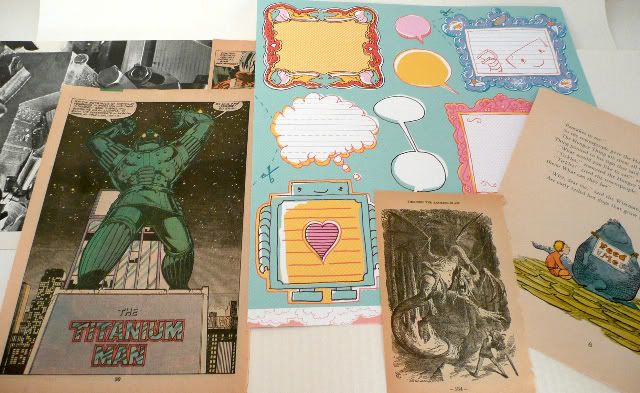 Lovin' me some EPHEMERA!
ROBOTS!
-A robot paper napkin
-A space-themed card
-3 sets of sticker eyeballs
-2 little blue alien men
-A handful of foam robot beads
-2 robot brads
-2 rocket ship brads
-1 glass alien lampwork bead
-3 plastic robots, assorted colors
And check out this AWESOOOME collage page!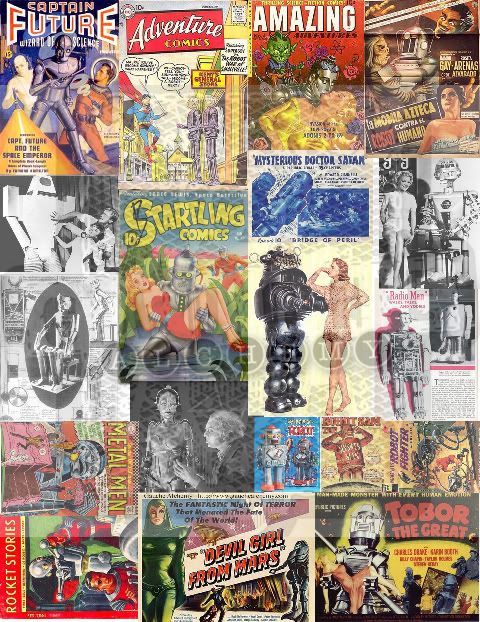 You get all of this for such a fricking steal! This kit is only $35.00 and FREE FREE FREE shipping in the US and $8.00 flat rate shipping internationally! How amazing is that?!
So, here's my advice. Check out this AMAZING not-so-dubstep video of this guy doing ROBOT moves then DO THE ROBOT on over to Gauche Alchemy and start planning your crafty robot take-over!