We have launched the brand-new kit for January! Here's Maggi to tell you all about "Moshi Moshi"!
"Hi everyone!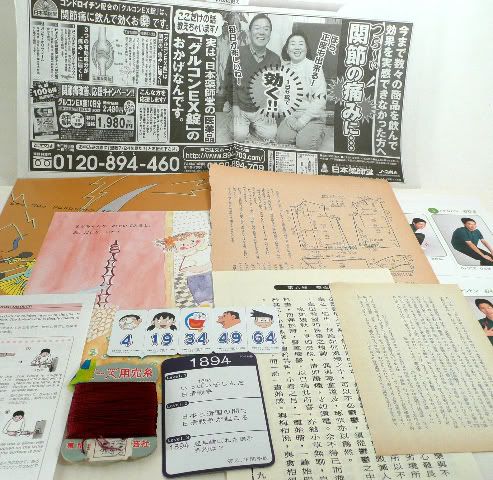 I just love this kit! I got some time to play with it before it hit the
Gauche Alchemy store
and let me tell you, it rocks! Most of the contents in this kit came straight from Japan. It's got a little bit of kawaii, a little bit of vintage goodness and a whole lot of awesomesauce! (And yes, I did just say "awesomesauce", this kit is that cool.)
Here's what you get:
- 1 12×12″ Tinkering Ink floral paper
- 1 12×12″ Basic Grey Wisteria paper
- 1 8.5×11″ Bazzill cardstock
- 1 sheet vintage origami paper
- 1 5″x12″ piece of PVC punchinella
- 1 swatch of fabric with sticker adhesive on the back
- 3 Japanese children's book pages
- 1 sheet of Japanese newspaper
- 1 sheet vintage dressmaking book page
- 1 Chinese foreign text page
- 1 Japanese foreign text page
- 1 page from a Japanese tourist book
- 1 card of vintage Japanese embroidery floss
- several Japanese paper game pieces
- 1 swatch vintage silk kimono fabric (pattern varies)
- adhesive fabric book tape swatch
- Bento box food picks and cupcake liner (pattern varies)
- small Asian-themed bookmark
- novelty eraser from Japan (in this photo, the milk carton – varies)
- a patterned binder clip and a novelty wooden clip
- mini patterned packing tape roll
- fabric-covered button from Japan
- tiny seed bead trim from Japan
I want to make sure you note that this kit includes some of our new
PVC Punchinella
and let me just tell you, I LOVE the PVC Punchinella.
The cost for all of this kung pao punch of awesomeness? For the US and Canada, it's $25.00 and that includes shipping! For our international femmes, add $3.00 for shipping. I know! Talk about a STEAL!
Cheers!